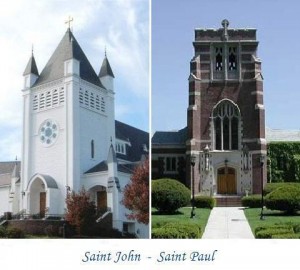 In preparation for the integration of St. John and St. Paul into a new parish collaborative, the inter parish team will be presenting information, on a regular basis, that will help keep you well informed. With that objective in mind we are publishing the following article that was written by Rev. Paul Soper on Feb. 10, 2013. This is a brief, accurate and concise explanation of the Archdiocese Pastoral Plan for the formation of parish collaboratives.
Disciples in Mission: Pastoral Planning
by Rev. Paul Soper, Director
February 10, 2013
I don't think anyone would disagree that the Archdiocese of Boston and the Universal Church have had a pretty tough decade. Reeling from the effects of the abuse crisis, declining Mass attendance, a bleak financial picture, and an ever-dwindling number of clergy to carry forth the mission of the Church, we easily could have decided to shrink and turn inwards. Instead of choosing the easier, yet more painful route of closing churches, we have decided to form an innovative, and dynamic plan to treat the cause and not the symptom of such disheartening changes, seeking a way to reverse global trends and get people back in the pews, increase donations, and see vocations on the rise, so that not only would we want to keep churches open, but we would need to keep them open to serve our burgeoning population? That is exactly what this plan strives to do.
In order to do this, we needed to address some structural components first. As our priest population is aging, we find it more and more challenging to serve all the parishes in the Archdiocese. It is difficult for pastors to serve their parishes because they are expected to wear many hats—as both spiritual shepherd and business manager. To address these issues, we have created collaboratives of parishes where we can not only pool resources, but also where a priest or priests can serve the spiritual needs of a parish, while a strong, well-trained support staff can handle the day-to-day tasks of running an organization. This way, priests can better focus on what they were ordained to do: serve the people of God.
This is not intended to be a top-down restructuring of every minute detail in a parish—certainly the people on the ground know best the dynamics of their own parish. That is why each collaborative will write their own local pastoral plan to hash out the details of how Pastoral Planning will take shape in their collaborative. While there will, of course, be many practical issues to work out, it is important to remember that the focus and goal will be bringing people back to Christ.
In the coming weeks, we will discuss exactly how we plan to do that—how we came to choose the collaboratives in Phase One, what will the trainings (undertaken by both parishes and the central staff of the Archdiocese) involve, what is the "New Evangelization" and how does it work. All of that and more to come. Until then, you can always get more details about Pastoral Planning on the website, Disciples in Mission.