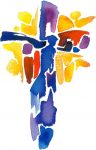 Who do you say I am? (Matthew 16:13-20)
As we prepare for Holy Week, there is no better time to consider Jesus in Scripture, and our relationship with Him in our heads, hearts and lived faith. Guiding us for this reflection will be Barbara Pyles: RN, MA Boston College School of Theology & Ministry, and St. John parishioner.
We will gather in St. John's Powers Hall at 6:30pm, and begin the meditation program at 6:45 in the chapel. All are welcome to pray, and to take part in a wonderful opportunity to share faith and potluck. Please bring a favorite Spring dish.  All women from our Collaborative are invited. We look forward to seeing you.