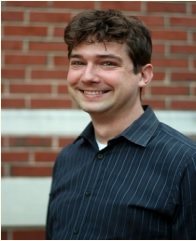 Chris' last Sunday as Music Director for the Family Mass will be August 13, but please join us for a special Family Mass on Sunday, July 23 at 9:00am. There will be a special farewell reception for Chris in Powers Hall following Mass.
A Letter from Chris Holownia, Family Mass Music Director
Dear St. John's Parishioners:
After a long period of discernment, I have decided to pursue a religious vocation to the Jesuits and will enter their novitiate at St. Andrew Hall in Syracuse, NY this coming August.  This announcement is bittersweet, as I have been a member of the St. John Parish community since I was in elementary school and will miss my colleagues, friends, and fellow Family Mass Musicians tremendously. I am both excited and nervous to begin this next chapter of my life, and saying farewell is quite difficult.
I owe a huge debt of gratitude to everyone who has helped to make my experience here such a positive one over the past 10 years: thank you for welcoming me, challenging me, supporting me, and trusting me as I learned the ropes. St. John's is a special place, and I am proud to call myself a member of this great faith community.  Please know that I will cherish my time here for the rest of my life, bringing my career at St. John's forward with me wherever I go, and I promise to come back to visit whenever I can!
Sincerely,
Chris Holownia