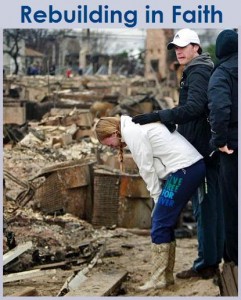 For many years, in preparing for Lent, St. John's Parish has chosen to reach out to one particular suffering through our Lenten Gift. This year, we are reaching out to help rebuild Midland Beach, a community in Staten Island, NY devastated by Hurricane Sandy. In solidarity with the staff and people of St. Margaret Mary's Parish and the surrounding community, we will collect funds through our Special Collection to help rebuild homes and lives that have been torn apart.
Throughout Lent, the plight of this parish community and its grass roots effort to rebuild peoples' homes and lives will be shared with you in our weekly Parish Bulletins and here on this page.  Each week's installment of this important story can be found in the sidebar to the right.  Be sure to visit the "A Story in Pictures" page for a first-hand look at the devastation.
Lent's clarion call to love extravagantly
is what Lent is all about.
How blessed we are to be able to bring
the warmth and love
of our parish and homes to those
Rebuilding in Faith!