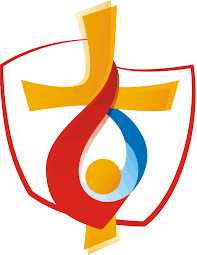 On July 21, 34 of our young people and 5 chaperones from the St. John- St. Paul Collaborative traveled to Krakow, Poland for World Youth Day 2016.  
Initiated by Pope John Paul II in 1986,
World Youth Day
attracts more than one million young people from almost every country.
World Youth Day
(WYD) is an opportunity for the youth of our parishes to learn about their faith and to build bridges of friendship and hope between continents, people, and cultures. The week-long event culminates with an outdoor Mass with the Holy Father, with a congregation of over 2 million young people.
Experience Our Journey!
We invite you to share in the experience of our pilgrimage through our blog, Updates from Poland,  where we posted daily updates and shared photos, and through our video slideshow:
What Does the Logo Mean?
The logo for WYD Krakow 2016 is enclosed in the outline of Poland. In its center there is a cross which represents Jesus Christ who is the centre of the meeting. Yellow circle marks Krakow on the map of Poland and also represents the youth. The spark of the Divine Mercy flows out of the cross, its shape and color refer to the painting 'Jesus I Trust In You'. The logo is a graphic illustration of the words "Blessed are the merciful, for they will receive mercy" (Matthew 5:7) that have been chosen as the theme of the meeting. The colors used in the logo are: blue, red and yellow and they refer to the official colors of Krakow and its crests.Third Column