Summer 2018:
Thursday, June 21 and Friday, June 22
8:00am – 12:30pm at St. Paul School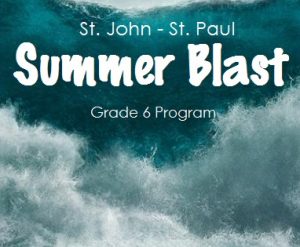 The Grade 6 Summer Blast program is a St. John-St. Paul collaborative program for students entering Grade 6 in the fall. Two half-day classes will be held at St. Paul School from 8:00 a.m. to 12:30 immediately after the last day of school. The curriculum will involve a variety of faith-based lessons taught in a fun, interactive environment and will include:
• Video Lessons on Morals and Values with interactive discussion
• Lessons surrounding the Jewish Ancestors in Faith – Moses & the Exodus
• Prayer
• Arts & Crafts
• Snack
Successful completion of "Summer Blast" will fulfill religious education requirements for the upcoming school year.