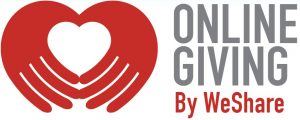 Please consider Online Giving by WeShare for your support of St. John the Evangelist parish. Online Giving is safe, simple, and convenient, and it benefits our parish by helping to streamline our administrative process and providing more accurate budgeting. Online Giving offers many benefits for you and for the parish:
You can share your gifts… Any way you want to. When you want to. Where you want to. WeShare accommodates both regular and special collections, making it easier for everyone to participate.
Leave your checkbook at home. Set up your recurring gift using a credit card, checking or savings account.
Your funds are protected. Your donations are automatically transferred to St. John so it's safer and more secure.
Support our parish consistently, even if you are unable to attend Mass at St. John.
Give on-the-go! Access the site from your mobile phone or tablet.
Less time required to process collections. No more manual entries so
office staff will be able to process data efficiently.
Predictable contributions. More predictable cash flow helping us plan our ministries better.
Automatic record keeping. Online donation summaries for more accurate and efficient records.
To learn more or get started, please visit our secure WeShare page.