Dear Parishioners,
It doesn't seem possible that it has been almost fifteen years since we did the major renovation of our parish church. The renovation has been a wonderful space for celebrating our life as a parish as well as those important sacramental moments that mark our faith journey.
While the parish has been blessed with great vitality, the building in which we celebrate our faith once again needs revitalization. Sections of the original part of the church, most notably the tower, are in need of significant repair and reconstruction. Our heating and cooling systems need updating and our parking lot needs repaving and improved lighting.
Our parish has launched a Capital Campaign "Faith in Our Future" with a goal of raising $1,250,000 to address these important projects. As you can imagine, this is a most important and challenging task and now is the time to come together as a community. I ask that you please read through this brochure and prayerfully consider making a pledge to the best of your ability.
With your help and the help of many in our parish, I am confident we will meet the challenge ahead. I am grateful for the support of so many past and present who continue to make St. John the Evangelist Parish a vibrant community of faith.
Sincerely in Christ,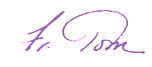 Rev. Thomas F. Powers
Pastor