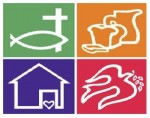 The specific work of the Service Commission is to be a catalyst for Christ's call to serve, that it be continually heard and responded to in all aspects of parish life.
By embracing the Parish's overall mission,
By supporting Parish ministries,
By identifying ongoing responses to human needs both within and beyond the Parish community,
By providing encouragement and assistance as needed to those engaged in service,
By helping the Parish to develop and support its own leadership in service ministry.
Through these efforts, the Service Commission is a vehicle to enhance the Parish's desire to be Christ to the world around us.
St. John currently offers more than 12 service and outreach programs organized into five areas. Each area is led by Program Coordinators who help facilitate participation, development, and communication for the individual programs.
Homeless and Feed the Hungry
Sandwich Collection for Bristol Lodge – So Others May Eat (S.O.M.E.) 
Food Pantry Collection for Saint Katharine Drexel Parish Food Pantry
Refugee Ministry
Seasonal Initiatives
Men's Clothing Drive for St. Francis House
Coat Drive for Coats for Kids
Thanksgiving Dinner at Bristol Lodge
Visitation and Outreach
Homebound Ministry
Nursing Home Visitation
Pregnancy Help Boston
Prison Ministry
Advent, Christmas and Lent
Advent Gift
Christmas Wish
Parish Lenten Gift
Education and Awareness Outreach
How to Get INVOLVED
There are opportunities for volunteers to help on a monthly, annual or sporadic basis in a wide variety of roles.  If you are ready to volunteer for a particular program or program area, or if you would like to speak with one of our Program Coordinators to learn more about how you can be of service, please email service@sjspwellesley.org and we will be in touch!