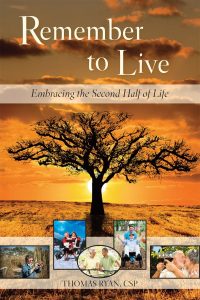 Our book for May is Remember to Live – Embracing the Second Half of Life by Fr. Thomas Ryan, CSP.
Awareness and acceptance of our mortality as experienced in aging, illness, and the death of others can bring a clarity and richness to the limited, precious moments of life, and helps us foster a special care for relationships and priorities in the time we are given.
Called by the leadership of his community to open and develop the work of a Paulist North American Office for Ecumenical and Interfaith Relations, Fr. Ryan, CSP, moved to New York City in 2000 and worked for seven years establishing the work of the office prior to moving it to the new North American Paulist Center in Washington, DC, in 2007, where he continues to serve the Paulists and the church in that ministry today.
For information, please contact John Stewart, 617-969-0950, or johnstewart@alum.bu.edu.
The Book Discussion Group meets the second Thursday of the month in the St. John Parish Center, 7:30 to 9:00pm. For information consult the St. John website or  contact John Stewart at 617 969 0950 or johnstewart@alum.bu.edu.

St. John's Adult Faith Formation Commission
Email: AFFC@stjohnwellesley.org