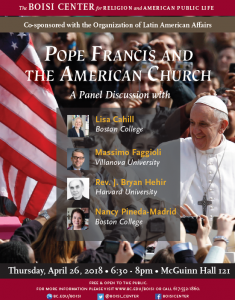 Thursday, April 26, 2018 from 6:30-8pm
Boston College McGuinn Hall 121
Upon the election of Cardinal Jorge Mario Bergoglio to the Chair of Peter in 2013, the Catholic Church received its first Jesuit pope and its first ever pope from the Southern Hemisphere. This year Pope Francis celebrates the fifth anniversary of his election. A distinguished panel, including Fr. Bryan Hehir, will discuss the trajectory of those five years and how Francis has engaged with, connected to, and changed the American Church, as well as what the future holds for his papacy and the American Catholic faithful.
Free and open to the public. The Boisi Center for Religion and American Public Life, co-sponsored with the Organization of Latin American Affairs. For more information, please www.bc.edu/boisi