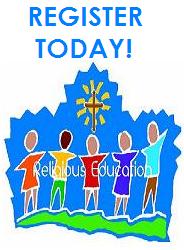 It is time to register for our 2018-2019 Religious Education program. Our online registration system makes the process quick and easy –
click HERE to register now. 
Please note that the information on our program on the website is for the 2017-2018 academic year; we will be updating the website over the summer.
The 2018-2019 calendar will be distributed in August with Opening Day procedures and information.  Please feel free to contact us if you have any questions or concerns.
The St. John's Religious Ed Team