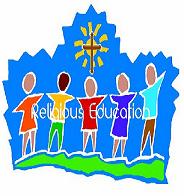 Sunday, April 23 
No Classes
Wednesday, April 26 – Friday, April 28
First Communion Practice – 3:30pm (as assigned*)
Saturday, April 29
First Holy Communion 9:00am & 11:30am
*Each student was assigned to specific practice dates and ceremonies which were communicated in an email earlier in the year.  It is important your child attends at the correct time.  Please contact Linda Messore if you are unsure what days to attend.
Sunday, April 30
Grades 7-8:  Last Class 6:00 – 7:00pm
Grades 9:  Last Class 7:00 – 8:00pm
Grade 10: Confirmation Practice 7:00 – 8:00pm (Philbin Hall)
Monday, May 1
Grade 10:  Sacrament of Confirmation  7:00pm
Registration for 2017-2018
Religious Education Registration for 2017-2018 is currently underway.  We have created a new online registration process that can be accessed by clicking HERE.  Please note that the registration period runs through May 31 – any registrations received after that will incur the $25 per child late fee and placement into our Wednesday program will NOT be guaranteed.