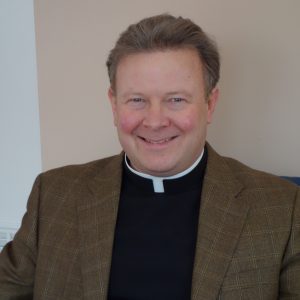 Blessed be the God and Father of our Lord Jesus Christ, the Father of compassion and God of all encouragement, who encourages us in our every affliction, so that we may be able to encourage those who are in any affliction with the encouragement with which we ourselves are encouraged by God.
(2 Cor 1:3-4)
My dear sisters and brothers in Christ,
I would like to express my heartfelt thanks to all of you who have given such great support to my family and me as we grieve the loss of my father. I have truly been overwhelmed by your love and generosity. Thank you to all who sent cards and Mass offerings and all who have kept us in your prayers. Thank you to all who attended the wake and the funeral. Your presence was such a gift and healing balm at our time of loss. Thanks to the many choir members from St. Paul's and St. John's who joined with the choir of Good Shepherd in Wayland to provide heavenly music for the funeral liturgy. Words cannot express the depth of my gratitude.
It is one of my greatest privileges as a priest and pastor to walk with you in the joys and the sorrows of your lives. In these last few weeks, our roles have been reversed and I have discovered in new ways how blessed I am to be part of this community of faith. I will be forever grateful for your outreach to my family and me in our time of grief. In your prayers and support, we have experienced the embrace of our loving God.
With gratitude and love,
Fr. Jim