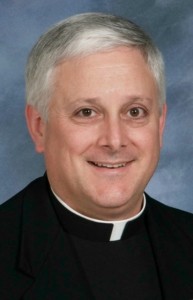 Many parishioners have exclaimed "We hardly had the time to get to know each other!" Although our time was short together it has truly been an enriching experience for me. I consider myself blessed to have known and served each one of you.
I would like to offer my gratitude to each member of our collaborative staff. All have worked with a clear focus toward achieving the goals of Disciples in Mission over this past year. I would like to highlight Mr. Michael Dibbert Principal of Saint John School, a proven leader, fully committed to Catholic education.
We are blessed with our collaborative pastoral council, a diverse group of vibrant, dedicated and visionary members who are eager to begin work on our Collaborative Pastoral Plan. I am indebted to our parish finance councils, composed of multitalented professionals, for their candid and insightful guidance. In a particular way I would like to acknowledge the support and generous ministry of Fr. MacKay, Deacon Mott, Msgr. Lind, Fr. Connelly and Fr. Hehir. Their liturgical contribution to the collaborative allows us to continue to offer a robust Mass schedule.
I offer my best wishes to Sr. Evelyn as she transitions from more than 20 fruitful years of parish ministry to campus ministry at Emmanuel College. Sister's last official day in the office will be May 18, after which she will enjoy a much deserved period of retreat and renewal on the coast of Maine.
Please keep Fr. MacKay, Fr. Laughlin and me in your prayers as we transition together as disciples in mission.