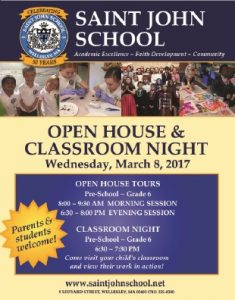 Morning Session: 8:00-9:30am
Evening Session: 6:30-8:00pm
Meet our teachers, visit classrooms, and speak to our Principal and parents. Come and see how Saint John School sets a standard of excellence for academic achievement and life long impact. Our school is a place where a spirit of faith is celebrated in a community of shared virtues.
Saint John School is located at 9 Ledyard St. Wellesley Hills, MA, next to St. John the Evangelist Church.  For more information, please visit our website or contact Principal Michael Dibbert at 781-235-0300.