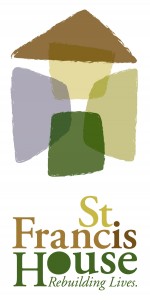 Dear St. John's of Wellesley,
We at St. Francis House would like to thank you for your generous donation of new and gently used clothing – including many new socks for our clinic and an assortment of professional attire for our Moving Ahead Program.  Your donation filled an entire van load and these items will help provide our guests with the vital resources they need to reclaim their dignity and rebuild their lives.
Your support means so much, and your contributions of much-needed goods helps St. Francis House provide a broad range of life-changing services to the poor and homeless in Boston. In fact, loyal supporters like you have helped us keep our doors open for over 30 years, offering a warm welcome to as many as 600 guests each day who come through our doors seeking support.
For our guests, walking through those doors is an important step in their process of rebuilding their lives. Thanks to you, St. Francis House is able to continue helping guests leave homelessness behind.
Thank you for choosing to be a part of the St. Francis House community.
With much appreciation,
Sharon Lee
Engagement and Special Events Supervisor