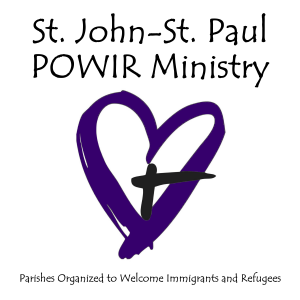 Special Collection March 28-29
Each year, in preparing for Lent, we reach out as a community to one particular place of suffering, amid so many in the world, through our Collaborative Lenten Gift.  In the parable of the Good Samaritan, Jesus reminds us not only that we must love our neighbors – without boundaries – but that our love must be manifest in action. This year, our Collaborative Lenten Gift will help us manifest our love into action by establishing a St. John-St. Paul POWIR Ministry Fund to support our ongoing immigrant and refugee resettlement work in partnership with Catholic Charities Boston.  POWIR (Parishes Organized to Welcome Immigrants and Refugees) programs have helped thousands of refugee clients find places to live, make friends, learn English, find work, receive pro bono legal counsel and medical services, and achieve social integration. Throughout Lent, in the bulletin and on the websites, we will share the POWIR story with you as we prepare for our collaborative-wide Special Collection on March 28-29.  Click HERE to make an online donation today!
Our gift will allow each of us to share in easing the suffering and to answer Lent's clarion call to love extravagantly.