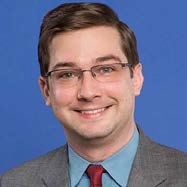 Dear Parishioners,
Happy Advent! In the spirit of this season of transition, renewal, thanksgiving, and conversion, I wanted to share with you a reflection I wrote on Luke 16:1-15 for Mass on November 11, 2017. The story of the dishonest steward is one of Jesus' most puzzling parables, yet its meaning was made known to me through my experience working as a chaplain at Upstate University Hospital in Syracuse. In our consumerist and individualist culture, it's sometimes difficult to remember that everything we call our own, even life itself, is a gift from God. We are not entitled to anything we call "mine," and any control or agency we may seem to enjoy over our human condition is ultimately illusory. So thanks be to God for the unconditional love with which He sustains us and for the many blessings He showers upon us.
Ad maiorem Dei gloriam!
Chris Holownia, n.S.J.
Please click to read: A Reflection from Chris Holownia