At once the Spirit drove him out into the desert, and he remained in the desert for forty days, tempted by Satan. He was among wild beasts, and the angels ministered to him. (Mark 1:12)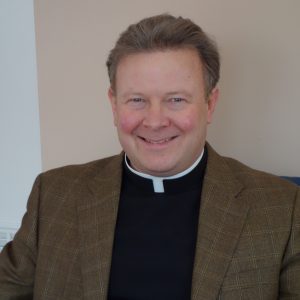 Which voices do we listen to?  The world is a noisy place and we are bombarded by voices telling us what to wear, what to buy, what to believe, what is beautiful.  During this holy season of Lent, we are invited to enter the desert with Jesus.  Here we will learn, like Jesus, to discern the voice of our loving God against the din of competing voices.  As we allow God's voice to speak deep in our hearts, we discover ourselves as loved unconditionally, as beloved.  As we come to know ourselves as God's beloved, we are more able to see the face of God in the needy around us and to become instruments of God's love and mercy to those we encounter.
Pope Francis encourages us "to lose ourselves decisively on the path of Jesus, the path which leads to life…Let us enter into the desert without fear, because we are not alone; we are with Jesus, with the Father and with the Holy Spirit.  In fact, as it was for Jesus, it is the Holy Spirit who guides us on the Lenten journey; that same Spirit descended upon Jesus and has been given to us in Baptism.  As we cross the Lenten 'desert', we fix our gaze toward Easter, which is Jesus' definitive victory against evil, against sin and against death."
We invite you to enter fully into this Lenten journey into the desert.  Take  advantage of the offerings of our collaborative for prayer and reflection, for service and for reconciliation.  Let's listen together to the voice of God.
Fr. Jim