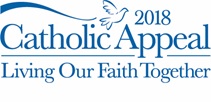 This year's Archdiocese of Boston Catholic Appeal, We the Many, Serving as One, has been launched.  (Please watch the 2018 Catholic Appeal video below for more information on how the Catholic Appeal provides needed funding to the many ministries that serve our parishes, schools, community programs and other affiliated organizations throughout the Archdiocese.)
St. John's financial goal for the Appeal this year is $111,782. Prior to this year our rebate was tied to a financial goal. The rebate earned by our parish from last year's Catholic Appeal was $17,500.   
The Archdiocese of Boston has announced new procedures for this year's appeal.
This year there has been a change in procedures, and we now must reach an in-pew envelope goal (in additional to our financial goal) in order to be eligible to earn any rebates back to the parish. Our new in-pew envelope goal here at St. John is 95 envelopes. This goal is based solely on the number of envelopes completed, so this year we are asking that every family complete and return one of the envelopes, to ensure that we reach the goal number.
After writing your name, address and home parish, please complete the in-pew envelope in one of three ways and place it in the regular offertory collection:
Add a donation of cash, check or credit card information
Select "I have already given to the Catholic Appeal this year"
Select "I do not wish to make a gift at this time"
The envelopes will be available in the pews and in the church lobby over the next several weekends.  We thank you for your patience and understanding as we launch this year's Catholic Appeal with the new guidelines and procedures.  Your generosity to the Catholic Appeal is most greatly appreciated.  Thank you! 
2018 Catholic Appeal Video from the Archdiocese of Boston
Cardinal Seán P. O'Malley said, "Faith guides us to discover the purpose of our existence, our mission here. As a community of faith, we all participate in the mission Jesus entrusts to us: to share the good news and support our brothers and sisters. It is my hope that everyone will consider a contribution for the 2018 Catholic Appeal to help advance that work here in our Archdiocese."