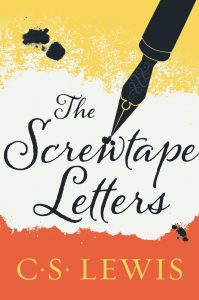 The Screwtape Letters:
A Look at Temptation and Fortitude
Please join us Tuesday, March 6 at 7pm in St. John's Powers Hall for the second evening of our Lenten Discussion Series on The Screwtape Letters by C.S. Lewis. These fictitious letters from a senior demon of Hell, Screwtape, to his protégé, Wormword, give us a peek into the world of temptation and fortitude, and provide a bountiful landscape for discussion of sin, vice, virtue, and the inner working of the human conscience.  The book is available at bookstores and online, but it is not necessary to read the letters before attending a session, and you do not need to attend every session to benefit!   You can join us for one session or all four!  Led by Jennifer Foster, DRE, St. Bartholomew Parish in Needham.
Letters for Week 2:  March 6
Letter 9: Life Phases
Letter 11:  Humor
Letter 12:  Sloth
Letter 13:  Pain and Pleasure
Letter 14:  Humility
Letters for Week 3:  March 13
Letter 15:  Time and Eternity
Letter 17:  Gluttony
Letter 21:  Pride and Peevishness, Possessiveness
Letter 23:  Jesus
Letter 24:  Faith Community/Spiritual Pride

Letters for Week 4:  March 20
Letter 25:  Novelty and Rhythm
Letter 26:  Unselfishness
Letter 27:  Prayer, Time and Distraction
Letter 29:  Twisting Virtue
Letter 30:  Weariness
Letter 31:  Deliverance
(Please click HERE to view the Powerpoint presentation from the first discussion on February 20.)