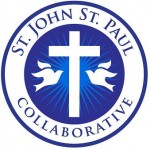 Dear Friends,
It is with a mixture of sadness and gratitude that I announce that Tricia Fraser, the Director of Finance and Operations for the St. John-St. Paul Collaborative, left her position as of July 1 to pursue a new and exciting opportunity. Tricia has been named Vice President of Finance at St. John Seminary in Brighton. I am most grateful to Tricia for her tireless dedication to the collaborative over the past three years in this important strategic role. Our gratitude, thoughts and prayers go with her as she embarks upon this new adventure.
I am at the same time delighted to announce that Jackie Welham is our new Director of Finance and Operations, effective August 6. Jackie comes to us with an impressive career in accounting and finance as well as a passionate dedication to the mission of the Church. She graduated with a bachelor's degree in Marketing from the University of Notre Dame and with a MBA with a concentration in Accounting from Babson College. Her initial professional position was with Coopers & Lybrand ("C&L"), where she obtained her CPA credentials. While at C&L, she specialized in utilities and in not-for-profits. She left C&L in order to take a job at one of her audit clients, Phillips Academy, and then spent eight years at Harvard University. After leaving full time employment, she consulted at various institutions, including several Harvard University departments (e.g. Financial Administration, Risk Management and Audit Services, and the Harvard School of Public Health), Simmons College, and Bethany College.
Jackie is an active participant in her home collaborative of St. Anne-St. Catherine, located in Littleton and Westford. She has served on the St. Anne Finance Council for sixteen years and on the Parish Council (first St. Anne and then the Collaborative Parish Council) for four years. She is a lector and a Eucharistic Minister, and has recently joined the Ministry of Hope. When not working, she enjoys playing tennis and spending time with her husband, Tom, and children, Elizabeth and Tommy.
We are thrilled to welcome Jackie to this key position in our collaborative. She is looking forward to getting to know the St. John and St. Paul community. Let's extend a warm welcome to Jackie as she begins her new position!
Yours in Christ,
Fr. Jim