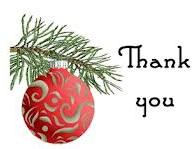 The Christmas Wish 2013 Committee would like to thank each one of you that generously donated time, contributions, shopping efforts, coordination of parish family needs, data entry, attending meetings, bundling packages, matching gifts to families, and many tireless efforts to make Christmas. We worked with 152 families and over 400 children in St. Patrick's in Brockton, St Patrick's in Lowell, St Katharine Drexel in Roxbury, Julie's Family Learning Program in South Boston, and St. John the Evangelist in Wellesley to provide gifts of clothing, toys, special gift wishes, and even food cards to make the holiday special for so many.
Over 240 St. John families helped with this effort by family sponsorship, shopping, financial donations, program co-ordination, religious ed community service, and gift delivery. We extend a special thanks to McCabe Movers for their donation of the truck for gift delivery again this year. We thank Bill Logan and Steve DuFour for volunteering to deliver the gifts to Lowell and Roxbury, joined by Steve's son. We would also like to thank our committee of Kathy Maher, Christine Kehoe, Becky Kannam, Paula Gomez, Peg Tally, Corinne Spinale, Pat Colton, Alyson Karpowicz, Joyce Farah, Donna Buckley, Liz Corcoran, Susan Logan, Patti DuFour, Denise Brown, Deidre O'Kelly-Lynch, Beata Pearson, Sally Miller, Maureen Newman, Mary Cagliuso and the Parish Office Staff.
We welcome all parishioners to join us next year in this heartwarming holiday effort of the 2014 Christmas Wish Program.