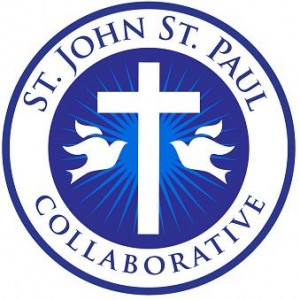 The St. John and St. Paul Collaborative will be formally launched in the summer of 2015.  Following is a recently asked question and answer about the new Collaborative:
QUESTION 6.) Please discuss the process which will be used for selecting a Pastor for our Collaborative, and the role of the local Parish communities in that process.
Since we have now been selected as a Phase III Collaborative, Father Rafferty and Father Powers will send their letters of resignation in October 2014 to Cardinal Sean, to become effective in June 2015. St. John's and St. Paul's will be listed as "open" in the Officials section of The Pilot and any priest who wants to apply for the position of Pastor may do so. The Regional Bishop, the Vicar Forane, the Director of Clergy Personnel, and possibly a member of the Clergy Personnel Board, will come to a joint meeting of our Council and Staff members, to get their input regarding Pastor selection. The Clergy Personnel Board will then discuss the candidates and develop a list of names for Cardinal Sean's consideration. Cardinal Sean will make his appointment, probably by mid-January of 2015.
More information can be found on the St. John's web site  (St. John – St. Paul Collaborative News) and on the Archdiocese of Boston Pastoral Planning website (www.disciplesinmission.com)
The Inter Parish Collaborative Team welcomes your comments and feedback. Please email your questions or comments to: stjohn.stpaul@gmail.com