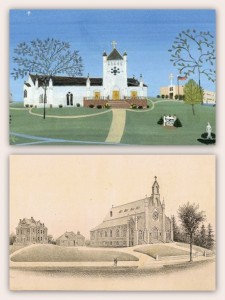 In 2015, St. John's celebrates two significant milestones in the history of our Parish:
May 2015 is the 140th anniversary of the first mass celebrated in our church
November 2015 is the 125th anniversary of the founding of our parish.
Our goal is to make these anniversaries a parish-wide series of spiritual, historical, and social events that honor our past, celebrate the present, and welcome the promise of our future. The anniversary committee has begun gathering input for the best ways to celebrate these milestones.  Do you have ideas? Are you willing to volunteer to organize or assist with an event or activity? If so, we'd like to hear from you. You can share your suggestions with any of the committee members listed below, or send comments to our e-mail address: Anniversaries@stjohnwellesley.org
Ideas under consideration at this point include:
Liturgy celebration of our history
Brunch, picnic, formal dinner, "Decades" night
Update to our written history, memory book, time capsule, fun facts
Anniversary keepsake: possibly a quilt, plate, ornament, paver bricks with inscriptions, memory tree
We thank you for your consideration and look forward to hearing from you.
Anniversary Committee members:  Father Tom Powers, John Calcio, Rose Mary Donahue, Christian Rubio, Jan Schreiber, Jim Stokes, Christine Tierney