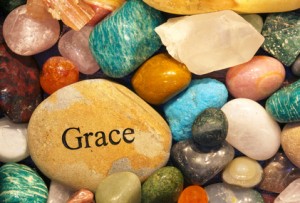 For the last few decades the word "Grace" has been a very "in" word! It has been used to help sell many self-help and religious books. But what does the word actually mean? And why is it important?
"Grace" is the English translation of the Greek word charis which means "that which brings delight, joy, happiness, or good fortune" (HaperCollins Bible Dictionary). In secular Greek, charis was related to the verb chairo, "to rejoice". As far back as Homer, it denoted "sweetness" or "attractiveness." Eventually it came to signify "favor," "goodwill," and "lovingkindness."  In the New Testament, "grace" (the word appears 156 times) is often used by St. Paul as a greeting: "Grace and peace to you from God our Father" (Colossians 1:2) where the greeting of peace would be recognized as a blessing by his Jewish audience and grace would be familiar as a blessing among his Greek readers.
Generally in the New Testament, grace is used in a special redemptive sense in which God's favor is made available to sinners who actually do not deserve it. There is tremendous emphasis in the New Testament upon the fact that human salvation is the result of God's grace. God's grace has been offered to the entire human family (Titus 2:11) but humans need to accept it (Romans 5:1, 6:3-4, 17). God's grace is not offered apart from instruction that requires both understanding and obedience (Isaiah 2:3; John 6:45). Grace excludes merit. Humans are not deserving of salvation. No one can "earn" pardon by works of human merit for, if such were the case, we could boast regarding our redemption (Ephesians 2:8-9).
"Grace" and "obedience" are not enemies. Paul affirmed that grace is accessed by faith (Romans 5:1-2; Ephesians 2:8-9). It is not, however, a faith void of loving response to God; it is faith that acts (James 2:21-26). When this concept is truly grasped, service to Almighty God flows with a freshness and zeal that invigorates the soul with joy.  St. Paul encourages us to continually embrace this state of grace; otherwise we separate ourselves from God, and the initial reception of God's grace will have been "in vain" (2 Corinthians 6:1; cf. 1 Corinthians 15:10). When Paul urges his fellow-believers to "continue in the grace of God" (Acts 13:43), notice that continue is in the present tense signifying sustained perseverance. Scripture is filled with warnings to those who don't persevere and the resultant dangers inherent in being "severed from Christ" and "fallen away from grace" (Galatians 3:26-27; 5:4).
The Roman Catholic understanding of grace is that "grace is favor, the free and undeserved help that God gives us to respond to His call to become children of God, adoptive sons, partakers of the divine nature and of eternal life" (Catechism of the Catholic Church, 1996). Our Christian brothers and sisters define grace in similar ways.  The "Our Wesleyan Theological Heritage" defines grace not as a created substance of any kind, but as "the love and mercy given to us by God because God desires us to have it, not because of anything we have done to earn it."  The Orthodox Church defines grace as the very energies of God. They teach that through the Trinitarian ministry of the Holy Spirit these energies are mediated to humanity when God acts in forgiving and spiritual healing. Grace is the working of God's own self, not a created substance of any kind. It is the teaching of the Orthodox Church that the grace of God invites all but compels none. As in Revelation 3:20, Jesus stands at the door and knocks but only if we open the door does Jesus enter in. Therefore God invites by grace but human free will is respected and God does not force acceptance, by free will our 'fiat' is required. While God extends grace, humans must be willing to "receive" the favor (2 Corinthians 6:1).
The evangelist Joyce Meyer defines grace as "power." It is God's power coming to us freely – it doesn't cost us anything other than putting our faith in God, enabling us to do with ease what we could never do on our own with any amount of struggle and effort. When we release our faith and trust God to do what we can't do, we're putting our faith in God. Then the grace, which is God's power, comes through the channel of faith and enables us to do what we could not do in our own strength.
Personally, this is the definition that helps me most through the vicissitudes of daily life! I experience my weakness, failures and inadequacies on a frequent basis. Recognizing my total dependency on God and accepting that God can, and will, help me allows me to step aside and pray, "not my will but thine be done" or, in modern parlance, "Let go and Let God." I can call on God's grace as the help I need daily, as St. Paul wrote in Philippians 4:13: "I can do all things through Christ who strengthens me." In 2 Corinthians 12:9, Paul repeats this theme:  "And God said to me, my grace is sufficient for you; for my strength is made perfect in weakness. Most gladly therefore will I rather glory in my infirmities, that the power of Christ may rest upon me."  For me, God's grace is God's help!