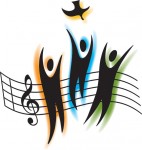 Hello All! My name is Kelly Meraw, and I am a parishioner, cantor and choir member here at St. John's. On behalf of our music directors Larry Carson, Chris Holownia and myself I'd like to extend a heartfelt welcome and invitation to a new year of making music.
For me, singing in a choir is one of the most enriching things one can do. I started singing in choirs when I was five years old; and I maintain close friendships with many of those same singers today. Recently a study was published in the "Journal of Psychology of Music" which explored the anxiety and stress reducing benefits of singing in a choir. Singing in a church choir has the extra benefit of singing prayers. Being a member of the choir here at St. John's is a great way to become involved, for me and my husband it has been a wonderful way to meet new people as we just moved into the parish 3 years ago.
The Parish Choir participates in the 11:00 a.m. Mass on the first Sunday of the month (First Sunday Choir), the time commitment is low two hours on a Sunday morning and the payoffs are endless.
The Family Mass Musicians sing and play at the 9:00 a.m. Mass almost every Sunday during the regular school year, rehearsing for an hour beforehand. You are welcome to come and join them any time.
Our Youth Choirs participate in special Masses on Christmas Eve and Easter, for which they rehearse after Mass on Sundays for several weeks prior – check the bulletin and Youth Choir page on the website for details.
We are also looking to grow the group that sings and plays at the 5:00 p.m. Mass on Sundays. They rehearse at 4:00 p.m., and the music has a more contemporary feel. Sometimes, they even have a drumset and electric guitars!
I know what you are thinking: I don't read music – WE WANT YOU! I can't sing – WE WANT YOU!  I don't know anyone in the choir – WE ESPECIALLY WANT YOU!
This year a few things are being added. My husband Michael (who is a voice professor at New England Conservatory) and I will be hosting an optional but beneficial practice on the last Thursday of every month in the Music Office downstairs. We will do a basic vocal warm up and touch on some good vocal technique – look at it as free voice lessons! Then we'll go slowly through the music for the coming Sunday 11:00 a.m. Mass. We'll definitely have time to chat, socialize and get to know each other and refreshments will be provided. Our first Thursday evening session will be on October 2 at 7:30pm in preparation for First Sunday October 5.