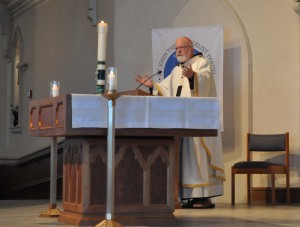 We were blessed with a beautiful day for a beautiful celebration! Following the 9:00 Family Mass Celebration, families began to gather outside to enjoy breakfast or lunch as the kids played in the bouncy houses and delighted in balloon animals.  Our 11:00 Mass with Cardinal Sean O'Malley, concelebrated by Fr. Powers, Fr. Connelly, Fr. McMillan, and Msgr. Lind, was a prayerful and moving celebration of the life of our parish – past, present and future.  To read the full version of our Parish History, which was excerpted in last Sunday's bulletin, please visit the website. The audio from the 11:00 Mass, which will include the Cardinal's homily and the beautiful music of our Parish Choir, will be posted to the website soon.
A special note of thanks to all the parishioners who worked so hard to make St. John's May Anniversary weekend a special time for all! We would especially like to thank the Anniversary Committee Members: Carolyn Anderson, Norm Boucher, John Calcio, Chrissy Cassa, Rose Mary Donahue, Mimi Eldridge, Janet Schreiber, Jim Stokes and Christine Tierney.
With a special note of appreciation to Dorothy Cullinan who created the Anniversary logo that was so effective in focusing our attention towards both of St. John's Anniversary celebrations in 2015.
Also a note of thanks to all the vendors who participated in this parish event: Bank of America, Bon Me!, Burke's Funeral Home, Captain Marden's Cod Squad, Haynes Management, Peter's Pizza, Roche Bros., Taylor Rental, Town of Wellesley Police Department and Whole Foods.