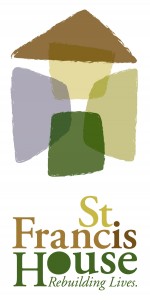 Happy Spring! Every year in June, St. John's parish conducts a men's clothing drive for St. Francis House, the largest day shelter in New England, serving over 800 men and women on a daily basis.  St. Francis House distributes clothing to the homeless in Greater Boston, averaging 250 sets of clothing per week.  To help meet this ongoing need, we are collecting men's gently-used, everyday clothing such as jeans, T-shirts, sweatshirts, hats  and footwear, as well as new socks for their Foot Clinic, which provides foot care and socks to homeless clients.
We hope you will take the time for a quick spring cleaning, and remember to bring the items to our church garage on the weekend of June 6-7.
Right now, the highest needed items include:
Men's pants (especially jeans – given out on a daily basis)
T-shirts (extremely important – given out on a daily basis)
Footwear (extremely important)
"New" Socks
Sweaters & Sweatshirts
Backpacks/duffel bags
Coats, hats, gloves, and scarves (larger sizes in extreme needed)
Please do not send in children's clothing, used socks, or any discolored items. If you can put your items in boxes or secured bags, and label it with the general
contents, it would be a great help with sorting. Thank you for your generosity!
If you need to drop items off sooner due to travel schedules, etc. or have any questions please contact Shilan Yeung, either email shilanhappy@gmail.com or text/call at 508-801-7072.