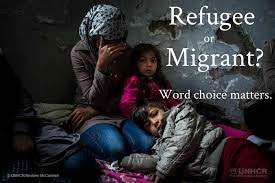 Like many of you, we have been moved by what we've seen and read about in the media: the chaos at border crossings, the wretched conditions in makeshift refugee camps, and reports that in 2015 alone, as many as 3,000 people drowned in the Mediterranean Sea while trying to escape civil war and persecution in their own country. The full horror of the humanitarian tragedy unfolding on the shores of Europe was revealed late last year in the heartbreaking photograph of a drowned Syrian toddler, on a Turkish beach, after two boats bound for the Greek island of Kos sank.
In fact, caring for refugees is based on Catholic social teaching. Think of Christ's life: the baby Jesus was a refugee who, along with the Holy Family fled the terror of Herod into Egypt (Mt 2:14-15). In his public ministry Jesus was itinerant, moving from place to place "with nowhere to lay his Head…" (Mt 8:20).  In the Gospel of Matthew, Jesus instructs us to welcome the stranger: "For I was hungry and you gave me food, I was thirsty and you gave me drink, I was a stranger and you invited me in, I needed clothes and you clothed me, I was sick and you looked after me, I was in prison and you came to visit me." (Mt 25: 35-40)
In any discussion of displaced persons it is important to understand the distinctions between refugees, asylum seekers, migrants and immigrants. A refugee is a person who has fled armed conflict or persecution and who is recognized as in need of international protection because it is too dangerous for them to return home. Refugees are protected under international law by the 1951 Refugee Convention, which defines what a refugee is and outlines the basic rights afforded to them. Refugees must secure refugee status while still outside the United States. After a comprehensive screening process, refugees are admitted to the U.S. legally with work authorization and limited benefits. Eventually, refugees may apply for permanent residency and citizenship in the United States.  For example, those fleeing Afghanistan, Eritrea, Syria and Iraq are considered refugees.
An asylum seeker is a person who has applied for asylum on the grounds that if he is returned to his country of origin he has a well-founded fear of persecution. An asylum seeker is already present in the United States or is seeking admission at a port of entry. A migrant is someone who moves either temporarily or permanently from one place to another, generally for economic reasons. For example, those fleeing poverty in Nigeria would be considered migrants. An immigrant is a person who migrates to another country, usually for permanent residence.
Next week we'll discuss how the U. S. Catholic community is helping refugees to resettle in the United States.