Over the past three weeks, we have begun to learn about the tragedy of human trafficking and the healing work of The Bakhita House.  If you have found yourself thinking "I had no idea" while reading these stories over the past few weeks, you are not alone. There is very little awareness among most people in this country that human trafficking even exists, let alone in the United States; when it is recognized, it is usually thought of as something that happens in other places, to other people who are very different from us.  It is startling to learn that the 41 women served by The Bakhita House since it opened in 2011 were rescued from trafficking situations here in the Boston area, and that while some were brought here from other countries, the majority were born in the U.S.  So, now that we know, how can we help?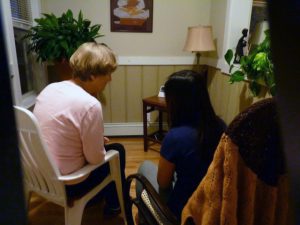 The current staff of The Bakhita House includes five religious sisters from three different religious orders, who work in pairs to be able to staff the house 24-7. The staff coordinates a team of over 30 volunteers from a variety of religious congregations as well as lay volunteers, who are critical to the mission of The Bakhita House. Volunteers provide a range of services to guests, including transportation, on-site life skills and social skills training, and tutoring. Volunteers also help engage in advocacy efforts and in fundraising. Volunteers receive training and are encouraged to be non-judgmental in their interactions with guests, providing an additional layer of care, support, and community at Bakhita House.  If you might be interested in helping as a volunteer or advocate, please visit the website for more details and contact information: www.thebakhitahouse.com
Financial donations enable The Bakhita House to provide emotional support, food, shelter, and clothing, as well as an environment that assists guests to rebuild their lives, and help as they transition to a new and stable life beyond the shelter. Next weekend, April 1-2, we will take up a collaborative-wide special second collection for our Lenten Gift, which will allow each of us to share in easing the suffering, and to answer Lent's clarion call to love extravagantly.
For more information, please visit our Lenten Gift page.