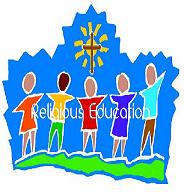 Classes for all grades will begin as follows:
Grades 1–6: Sunday, 9/17 from 10–10:45am or Wednesday, 9/20 from 3:30–4:45pm
Grades 7–10: Sunday, 9/17 from 6–8pm
In an effort to make our opening days for Religious Education as successful as possible for our staff, students and teachers we will NOT be accepting new registrations/students on opening day. Please register immediately if you plan on having your children attend Religious Education and you have not done so already. Please note that we were able to get additional teachers for our Wednesday program so registration for Wednesday classes is open again. We are still in need of teachers for our Sunday evening program, so if you are available to teach please contact Ronda Dew as soon as possible.
All registered families should have received an email detailing opening day procedures with links to the final calendar and program information on the Parish website. If you registered and did not receive the email please contact Linda Messore.
Teachers: The kick-off meeting for all teachers is Sunday, September 10, at 6:00pm in Philbin Hall, in the basement of St. John's school. Important information will be provided so please make every effort to attend.
Cluster Families: The opening meeting for those registered as clusters will be held on Tuesday, September 26, at 7:00pm in Philbin Hall, in the basement of St. John's school. Lesson plans will be distributed.
If you have any questions regarding our Cluster program or the opening meeting, please contact Andrea Fay.
Teen Mass
The 5:00 pm Sunday Teen Mass returns Sunday, September 10th! The Mass will feature contemporary music appealing to teens and young adults and their families, and will include teen participation in the various ministries of the Mass. If you are interested in becoming involved as a Eucharistic Minister or Lector please contact Ronda Dew.