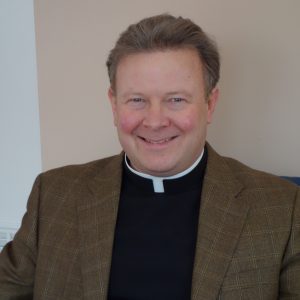 Over 60 parishioners from the St. John-St. Paul Collaborative joined on November 7 to discuss a shared vision of what constitutes Christian Service and how we can achieve expanded opportunities to answer Christ's call as we move forward as a collaborative. There was great energy and excitement in the room as members of both parishes got to know each other in the context of discussing an issue vital to our lives as Catholic Christians. Led by Carol Yamartino, a professional executive coach and leadership meeting facilitator, the ideas flowed freely as the attendees focused on many of the communities among us who are crying out for help – the hungry, poor, elderly, immigrants, prisoners, the homeless and the list goes on. The group also considered such topics as the extent of our outreach and the kinds of service we should seek to provide. The evening concluded with a discussion centered on potential models for implementing the ideas expressed.
The meeting was part of the consultation process that allows the voices of parishioners to be heard as the Collaborative Pastoral Council and I contemplate the creation of a Pastoral Plan for our collaborative. We also anticipate an additional forum in 2018 that will focus on family life as we move forward with the overall effort of exploring topics of importance to our parishioners.
How blessed we are to have such wonderful parishioners, passionate about living your faith through Christian Service. I feel very blessed indeed to serve as your pastor!
Yours in Christ,
Fr. Jim