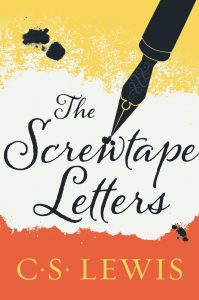 The Screwtape Letters:
A Look at Temptation and Fortitude
Consider the cunning ways of the devil to lure us into temptation by delving into The Screwtape Letters by C.S. Lewis. These fictitious letters from a senior demon of Hell, Screwtape, to his protégé, Wormword, give us a peek into the world of temptation and fortitude, and provide a bountiful landscape for discussion of sin, vice, virtue, and the inner working of the human conscience. There will be 4 sessions on the following Tuesday evenings:  February 20, March 6, March 13, and March 20 from 7:00-8:00pm in St. John Powers Hall.
 Led by Jennifer Foster, DRE, St. Bartholomew Parish in Needham. The book is available at bookstores and online, but it is not necessary to read the letters before attending a session, and you do not need to attend every session to benefit!   Join us for one session or all four!