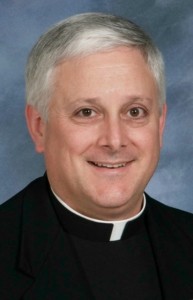 On behalf of the priests, deacon & pastoral associates of both parishes we are grateful to everyone who contributed to the coordinated efforts that allowed for the prayerful celebration of the Sacred Paschal Triduum, including, our music directors, cantors, choirs, musicians, lectors, servers, ushers and sacristans, along with pastoral, administrative, and facilities staff. Liturgical decorations at St. John led by Sr. Evelyn as well as the Liturgical decorating committee at St. Paul made our sacred space appropriately prayerful as well as beautiful for the season leading up to Easter.
Easter attendance was extraordinary at both parishes. This year in each parish we utilized recently installed technology which allowed us to simulcast the Easter Mass to Powers Hall at St. John, and the Parish Hall at St. Paul.
Attendance at the additional times for the sacrament of Confession during Lent and Holy Week was so encouraging. Many commented on the convenience of the Sunday afternoon penance service.
May the Peace of the Resurrected Lord fill your hearts with His new life of Easter Joy.