In 2001, when 800 leaders of congregations of Catholic sisters from 77 different countries gathered in Rome, the Sisters from Asia and Africa raised awareness about the phenomenon of human trafficking and the suffering of its victims. In 2007, the Boston unit of the Leadership Conference of Women Religious (LCWR) established an Anti-Trafficking Coalition. A year later, Boston (LCWR) established a task force and met with law enforcement and social agency personnel to learn how to help trafficked women. The Sisters learned that the greatest need for these women was a safe house. In October, 2011 Bakhita House (BH) opened. At the time it was the first and only safe house in New England for victims of human trafficking. It is supported and funded by 21 religious congregations including two congregations long associated with St. Paul's and St. John's: the Sisters of Charity and the Sisters of Notre Dame.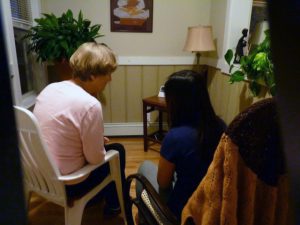 The Bakhita Community, staffed by a core community of live-in Catholic Sisters and several volunteers, provides emotional support, clothing, food and shelter and services for victims of both domestic and international trafficking. The community's goal is straightforward: namely, to create a home for these women with unconditional love. Remember, the victims of trafficking have been deeply traumatized and have absolutely no support system so the Sisters, in effect, become family to these young women. Ultimately the Bahkita Community creates an environment that assists guests to rebuild their lives; in effect to transition 'up and out'.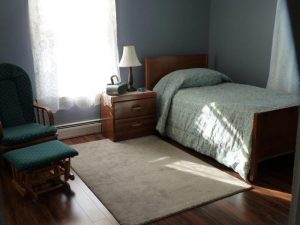 It starts with providing comfortable private rooms and convenient accommodations. The community has protocols and rules that focus on safety and confidentiality, all in a warm and caring environment. The community emphasizes and validates the guests' strengths, adaptations and resilience. BH has adopted an empowerment model that enables guests to experience a renewed sense of control in their lives. Working with a case manager, each guest creates her own goals.
During its six years of operation, BH has cared for 41 young women; most of whom have been sexually exploited. The House can accommodate up to 3 guests at a time and the length of stay varies and can extend for up to 1 year. An important part of the stay is to integrate the women back into society and toward this end the Sisters help the women find jobs. BH is conveniently located near the T and Bus Lines for easy access to job opportunities. The Sisters are also responsible for connecting the women to critical and comprehensive services from government and social service organizations. In addition to paying rent for BH and purchasing/preparing meals for the House, the Sisters provide cell phones, monthly bus and T passes and other sundry expenses for the women.
When each guest is ready, the Sisters help them transition back into an independent life. To help ease the financial burdens of starting life anew, the Sisters provide the first and last month rents for each guest, as well as locating donated furniture and other needs for apartment living. Not surprisingly, the Sisters stay in touch with the guests once they are living independently and continue to provide emotional and financial support to the best of their ability.
Please visit our 2017 Collaborative Lenten Gift page for more information.
To learn more about Bakhita House, please visit their website: www.thebakhitahouse.com