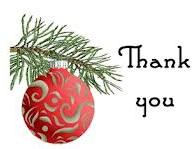 As the beautiful season of Christmas draws to a close, I'd like to thank all of the many people who made the celebration of Advent and Christmas within our collaborative so inspiring.  The liturgies were uplifting and joyful thanks to our talented singers and musicians.  Many volunteers have beautified our churches and the staff has worked diligently in attending to all of the added logistics that the holidays bring.  The true Christmas spirit was alive in the extraordinary outreach to the needy through Christmas Wish and the Giving Tree.  Thanks to all of you who have given so selflessly!
There is always a certain sadness in bidding farewell to Christmas.  Our consolation is that the reality of Christmas is not just for a season but always.  Jesus Christ is Emmanuel, God with us, in both our joys and our sorrows.  And, as this poem by Howard Thurman so beautifully expresses, we are called all year to carry on the work of Christmas as we see the face of Christ in those in need.
Christmas blessings,
Fr. Jim
The Work of Christmas
When the song of angels is stilled
when the star in the sky is gone
when the kings and the princes are home,
when the shepherds are back with their flocks, 
the work of Christmas begins:
to find the lost
to heal the broken
to feed the hungry
to release the prisoner
to rebuild the nations,
to bring peace among the people,
to make music in the heart.