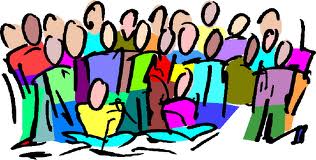 The 2015-2016 Parish Choir season has begun. We welcome interested singers from high school age and beyond to join us. We rehearse Wednesday evenings 7:30-9pm in the Music Office, lower level of the church. Our Sunday warm-up rehearsal is at 9:30am.
If participating in choir on a weekly basis is overwhelming you should consider joining the First Sunday Choir. Just as the name indicates we meet the first Sunday of the month at 9:30am. If you need a little head start learning music, come to the previous Wednesday night's rehearsal.
This year our team of choir directors includes: Dr. Anita Kupriss, Dr. Michael and Kelly Meraw and Larry Carson. We welcome new members at anytime during the year but particularly at the beginning of the season. With Christmas coming quickly, we've begun to prepare music for the occasion. This lively, energizing ministry is the perfect place to share the love of singing together, rekindle old friendships and begin new ones.