Maryam and her 6 children, Binti, Zhara, Abdullahi & Abdirahman (twins), Shamso and Zeinab have lived in a refugee camp since 1996. They fled on foot with literally the clothes they could wear and a little bit of food and walked for miles until they found relative safety across the Kenyan border in a refugee camp in Kenya. The UNHCR registered Maryam and family as refugees in 1998. In they the camp they were issued a sturdy tent for their dwelling, firewood, and one pot for cooking. They received a ration card for food (oil, salt, corn, soya, cereal and sugar) that typically ran out before the end of the month. Maryam's children attended school run by non-governmental organizations.
They were finally approved by US Department of Homeland Security as refugees in 2012 after going through security background checks which includes multiple identity/name check, fingerprinting and in-person interviews with US immigration officials. In August of 2014, their case was referred to Catholic Charities of Boston for refugee resettlement and CCB agreed to welcome this family and waited for an arrival date. Maryam and family were put on their first plane ever, after going through another background check 7 days prior to their scheduled arrival in November 2015. They put their possessions into one battered suitcase, a donation from overseas. They were given a white plastic bag with their identity documents, which includes evidence that they are refugees and permitted to remain in the US indefinitely and work authorized. Also included in that white bag is a promissory note with a total payment due of $7,000 to the International Office of Migration, which will be broken up into manageable payments starting in the 6 month after their arrival.
Maryam and family arrived to JFK Airport in NY after 1 day and two planes, were inspected by US immigration officials and then put on a plane to Boston, scheduled to arrive at 11:50pm on a cold November night. While Maryam's family was getting ready to board the plane in Nairobi, the resettlement staff at Catholic Charities Boston was busy preparing for the family's arrival. The case management staff ordered the necessary furniture: a twin bed and bed frame for each person (a set of bunk-beds for the kids), 3 dressers, a dining room table with 7 chairs, and 2 couches/sofas. The case management staff also bought food (enough for a week), necessary toiletries, household goods and bedding to outfit the apartment.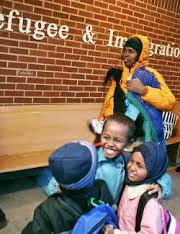 Maryam and family arrive at Logan International Airport after midnight and are greeted by their case manager and a Somali interpreter. Although this was a daunting experience, Maryam felt a sense of relief and comfort when she was greeted by a friendly face and someone else who spoke her language. The case manager explained that he would now bring the family to their new home and
brought them to their 3 bedroom apartment in Lynn. While at the apartment, the case manager provided a safety orientation and cultural orientation about the home, neighborhood and city. This apartment was found by the case management staff prior to the family's arrival, to ensure that they had proper place to live upon arrival. Through the Reception and Placement federal program, Maryam and her family received what is known as "welcome money". This is cash assistance provided to refugee families, which does not have to be paid back. Maryam and her family were given $925 per person, which is for the purpose of securing and renting an apartment for the family. The case manager told the family, through the interpreter, who to call in case of an emergency (911) and provided his contact information. The case manager informed the mother that he would be back in the morning to begin setting up the necessary services for the family.
The next morning, the case manager arrived at the apartment to find that the family had just finished eating. He walked into the living room and noticed that there was a pot burn mark on the hardwood floors. When the case manager inquired about this, the mother told him that they put the pot on the floor and eat around the pot as they did back home. The case manager seeing this explained that in the US that people eat at the table and not on the floor.
Throughout the week, the case manager focuses on making sure Maryam's family is set up with all the necessary referrals and resources. An intake is completed to explain their enrollment in the Federal (Reception and Placement- 90 days) and State (Massachusetts Refugee Resettlement Program) programs. Each family member is eligible for an unrestricted social security number, which the case manager takes them to apply for at the Social Security office. Maryam is enrolled in English for Employment classes and Employment Services. However, for Maryam she believes it will be difficult to attend classes as she has two children at home to care for. The case manager encourages her to attend and bring her children with her. The case manager brings the family to the Department of Transitional Assistance to set up the TAFDC (temporary public cash assistance) and SNAP (food stamps). The family attends one of two health screenings and the school aged children receive their immunizations required for school at these appointments. Following the health screening, the case manager takes the children to enroll in the local public school and they are scheduled to start in a few weeks. Within the first month of her arrival, Maryam is scheduled for a classroom style Cultural Orientation in which she receives a comprehensive overview of life in the US.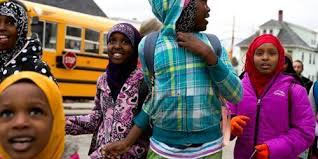 By 90 days after their arrival, Maryam and her children have received the basic core services: children are going to school, and Maryam is slowly learning how to navigate her new community. Maryam has indicated that she would like to meet more Americans and make friends, which would also help with her English speaking skills. The case manager told her that he will try to find a parish or community volunteer to help her, but says that it may take some time. After one year, Maryam will come back to CCA to meet with the legal immigration department to help her apply for her permanent residency (Green Card). Within 5 years from her date of arrival, Maryam and the children can apply to become US citizens.