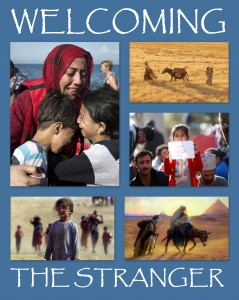 The St. John Service Commission would like to thank everyone who has supported our parish-wide effort to join Catholic Charities Boston in Welcoming the Stranger. Our Lenten Gift will allow CCB to restart the resettlement of refugee families in the Boston area, and will also present us with opportunities to develop long-term relationships with these families, by providing volunteer help with English language conversation, life skills and financial literacy assistance, and employment coaching as they acculturate.
If you have not yet had an opportunity to participate in the Lenten Gift but would like to do so, donations are still welcomed through this weekend. The Service Commission will be meeting with Catholic Charities Boston next week to present our Gift and discuss our ongoing involvement.
Online via ParishPay:  Click this link and choose 2016 Lenten Gift under Secondary Collections. (Please Note: you do not need to be a regular ParishPay user to donate online – anyone can make a secure, one-time donation with a credit card. No need to set up an account – just click Start Giving!)
At the Office: Donations can be dropped off weekdays during regular business hours. (Monday – Friday, 9:00am – 4:00pm.  Checks should be made payable to "St. John Parish", noting "Lenten Gift 2016" in the memo. We will total all funds received and present one check to Catholic Charities Boston.)
For more information please visit our 2016 Parish Lenten Gift page.
Thank you again for your generosity.